Maintenance Tips for Extending The Life of Your DTG Printer head Maximize Efficiency​
Apex Marketing
2018-02-24 14:36:30
Maintenance
dtg digital printer
equipment is very important 
Putting equipment away clean is critical – this means following your manufacturer's directions for cleaning at the end of EACH day (that the machine was in use). Master level operators have fewer problems because they understand this. Rigorous maintenance prevents print issues from developing in the first place. It gets you ahead of the game. It helps by not allowing the inks to dry on the face and edges of the print head. The capping and wiping assemblies get an extra cleaning as well which extends the life of the print head.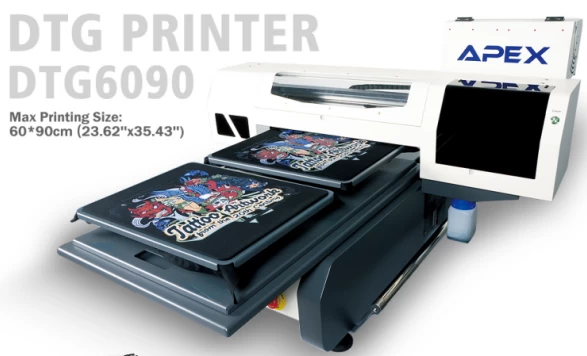 Master Tip: "Savvy operators develop a sense of when they should do a quick 5-minute cleaning cycle in the middle of production. This small step can prevent buildup on the head that may drip ink onto an otherwise good print."
Tips for Extending The Life of Your Printhead Keeping the
uv flatbed printer machine
running consistently, is the best way to keep your printhead wet and make sure ink is flowing correctly.
Master Tip: "Even on days when you don't have any print jobs, It's a good idea to have sample shirts for self-promotion on hand to keep the ink flowing, prevent clogs, and advertise your business at the same time."When it's time to replace a head, make sure you've installed everything correctly, including the covers. And, always make sure you cap the head when it's not in use.  Especially for transportation. This is the same process as used with other systems such as
UV LED Printers
.
Master Tip: "Following the daily maintenance procedures with a checklist will make sure the operator notices problems before they become a significant issue."
Maximize your Efficiency​
Before you start a job, spend a few extra minutes cleaning up, and getting things ready. Make sure you have everything needed to complete the work before you start.
You can divide your pretreating and printing operations to eliminate all the back and forth and to prevent bottlenecks that slow the
digital uv printer
down.
Master Tip: "Keep a job journal of issues you run into or bottlenecks you discover when producing your work.  Refer back to the journal at the end of each work week. Make improvements."