Who we are?
APEX is the sub-brand of Microtec Technology Group that develops, manufactures and markets a new high Cost Performance Solution in UV printer and DTF Printer industry. As an dynamic brand, APEX is strongly backed by seasoned professionals with extensive experience in the digital printing industry. Our mission is to produce high cost-effective machines and provide one-stop service, including full ranges of printing substances supply. At the same time, Apex is positively establishing distributor network all over the world by providing high cost performance machine and comprehensive service. 

 What do we do?                                                                         
APEX develops, manufactures and markets digital UV printers and DTF printers for the printing industry and Sign Mark industry, gift industry etc. Among its products are: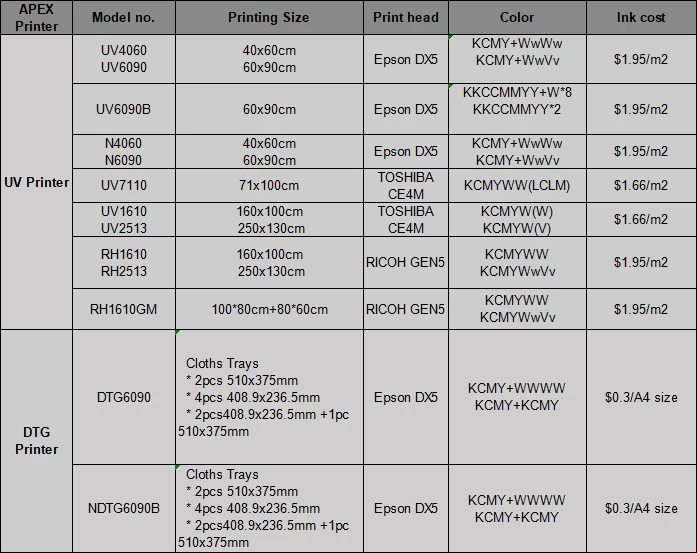 Best Cost Performance Machine-APEX!                                         
Comparison among APEX, Anajet and Brother, DTG Printers:
1. PRINT HEAD
The industrial print head can print faster, butthe costs are comparatively higher; while APEX using Epson print head, it'salmost the same as those printed by industrial level print head. But our priceis 1/3 of those industrial or brand printers, Which means, you can simply getsame result with only 1/3 cost (even lower) by purchasing our Apex UV printer.This will be a good selling point for you and your customers. 
2. UV INK
Apex-UV series of inkjet inkis providing good adhesion for the wide range of substrates,including certain plastics,special treatment 
resin glass and ole-fin plastics(e.g.PE,PP).
Apex-UV series of inkcan be easily used in most of the EPSON piezo printer heads at ambient temperature.
Apex-UV series of ink have the following goodcharacteristics:
*Good adhesion
*Good flexibility
*Low odor
*Good weather resistance
*Good frictional resistance
Apex-UV series of inkare ideal for outdoor display,can keep the images up to 3 yearswithout fading in the reasonable use condition and printing on the appropriatematerial. All the pigment with light fastness to 8 levels.
3. PHOTOPRINT  SOFTWARE
Our software is SAi certificated, and now we are working with two versions. One is DX version, another is DX
PLUS version. The version of software can be different according to the printer design, but it won't affect
the printing quality.
4. EXTRA COSTS
EXTRA COST? NO!
It's well known that these U.S. and Japanese branded companies spent lots of money on marketing and advertising to promote their products. 
However, these costs are eventually shared in the sale price that customer paid.
Based on above mentioned, we are confident that our Apex UV Printerenjoys higher ROI (=return on investment) than the other branded printer.  
Application &Samples:     
Can Directly print on any material: Acrylic, Wooden,Metal, etc.
USD Flash: https://youtu.be/TO5lB3ns-l4
Acrylic (3D): https://youtu.be/6fqLhHWVvHE
Aluminum Board(3D): https://youtu.be/czTJVSNDU4Q
TPU Phone case(3D): https://youtu.be/vK4z3PCrm8g
MDF(3D): https://youtu.be/y2fyo_eUS_I
Wooden: https://youtu.be/GwGN9H66oL8
5. LARGE FORMAT PRINTER
Why we choose the Toshiba Printer head usd1500?
Toshiba CE4 Printer head is the latestToshiba technology research and development of industrial-grade printer head.Normally the printer head can reach 5-6 years for batch production, and its printingaccuracy will be higher than Ricoh, while print speed Can be higher as much as5 times than the Epson nozzle.
| | | | |
| --- | --- | --- | --- |
| Brand | Toshiba | Ricoh | Epson |
| Model | CE4 | G5 | DX5 |
| Nuzzles | 636 | 1280 | 180X8 |
| Printing Width | 53.7mm | 64 mm | 36.8mm |
| Nuzzle Distance | 84.5 um | 60 um | 20.4um |
| Dot Frequency | 28KHz | 60 kHz | 18 kHz |
| Grey Scale | 8 Level | 7 Level | / |
| Ink Drop Size | 5PL | 7PL | 3.5pL |
| Resolution | 1440dpi | 360dpi | 1440dpi |
| Service Life | 12months~20months | 12months~20months | 8months~12months |
| Price | $1,500 | $3,200 | $1,200 |
The advantages of the Toshiba Printer
1. Equipped with TOSHIBA CE4 Print Head
High density nozzles, as many as 636, dotfrequency is 28KHZ which will help to achieve a high print speed. Spray ink canreach 300 billion times without clogging and ablique, but with long durablelife. 8 Levels grey scale, 5PL ink drop size, with a high resolution.
2. With independent double negativepressure function, so it can offer the high frequency during the printingprocess and greatly improving the stability of the device.
3. Toshiba nozzle is 5PL ink drop size, andit is high precision, fast speed. And its service life can reach 2 to 3 years
4. Its print accuracy is only less thanEpson but higher than Ricoh G5. However, its print speed is 2 times faster thanEpson print head, so Toshiba is fully adapted to mass production.
5. Toshiba Printer head is equipped withwater cooling system, which protect the nozzle from the outside temperature,and always limit that the temperature error will not exceed 2 degrees. Then theink flow and color output would be more stable.
6. Continued power cut function. In thecase of sudden power failure or abnormal stop, reboot to continue theimplementation of the last print file, perfect docking, do not waste anymaterial, and reduce production costs.
7. If one of the printer head is damage,you can replace the damaged head only, and do not need to replace all of theprinter head, thereby reducing costs.
Apex Testimonial:                                                                          
The "best" printer is not the most expensive one, it is the one that you learn everything about, I bought the APEXDTG printer, and I've made 5x money in a year. Now it "prints Money Legally".
— One Asia Client of APEX
The service is very good, careful to teach me how to use, inexpensive direct printer, print out the product is very good. Love this one
—  Customer from India
I tried it, the results were good. The biggest advantage is that you can print a variety of materials, simply too praised.
—  Customer from Denmark
After the trial that the result is good and machine is lower price than others.
— Customer from USA
Good seller. A little trouble in the process, but the seller resolved it at the first speed. If correctly, the machine are very easy to use.
—  Customer from Spain
Apex's Cooperative Service:                                                         
APEX never says no to customers, we welcome you to check any possibility to achieve your own ideas!
—Mr Bojun Li. Chief Engineer of APEX
Top 9 Reasons for buying Apex:                                 
1. 22+ Years Manufacturer
2. ISO9001, CE,  MSDS Certificated
3. Free on site Training in Factory
4. Door to Door installation & maintenance
5. Constant R & D
6. Double Quality Control
7. International shows
8. 24-7 on line service