What is Direct to Garment (DTG) printing
Direct to Garment (DTG) is a method where a printer directly applies the ink onto the t-shirt with inkjet technology. It involves a special printer, which prints the ink directly onto the garment in the desired design. DTG uses specialty inks, which are absorbed by the fibers of the garment.
The two key requirements of a DTG printer are a transport mechanism for the garment and specialty inks (inkjet textile inks) that are applied to the textile directly and are absorbed by the fibers.
A primary advantage of DTG printing is the lack of set-up costs and instant turnaround time not associated with traditional garment printing methods such as screen printing.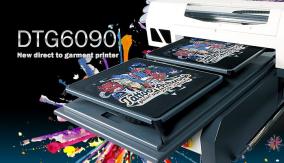 Direct to Garment (DTG) Features
1. extensive color options
2. maximum detail in design
3. suitable for small batches
4. minimal upfront investment
5. easily customized design